The MG-90 at work under the bridge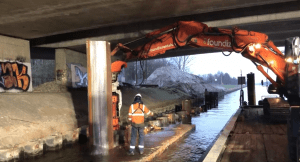 A Gilbert Grizzly MultiGrip MG-90 vibro from the Foundiz rental fleet at work under height restrictions under an existing bridge over the Twente Channel near the city of Almelo in The Netherlands. Very impressive work by the professionals of the contractors Joint Venture of Van Oord – Hakkers – Beens. Temporary and permanent sheet piles AZ24- 700 with a lengths up to 13,5 metres were driven from a barge in parts of 2 metres. During pile driving the channel remained open for shipping traffic. Also interested in a Gilbert Grizzly MultiGrip vibro? Foundiz is our exclusive dealer in the Benelux, Baltic States and Scandinavia.
This application is a perfect fit for the Gilbert Side Grip arm technology, which can handle sheet piles in conditions with challenging space restrictions.