Safety, a Priority!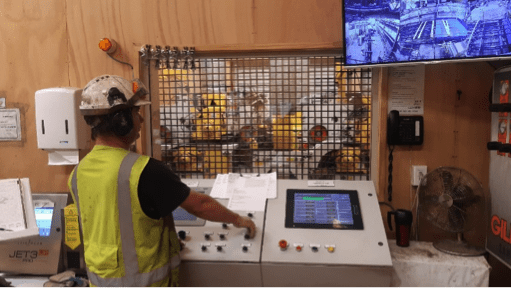 The Gilbert Automatic Cutterhead Positioning System controls the cutterheads and an unlimited number of axes for optimal precision and higher grades. Being easy to use, the automatic positioning system allows for fast and easy recipe changes, offering greater flexibility, less downtime and a safe environment.
Many automatic and safety functions have been developed over the past years, such as top and bottom head jointers, side head jointers, top head pressure plate, width and height adjustment, after-cut shoes and triple pattern side heads. Being very precise, these automatic upgrades increase the quality of the wood finish, ensure safety and efficiency.
Adjustments are made remotely from the HMI screen outside the planer room, or from a tablet or phone anywhere in the mill.
Gilbert is comprised of a team of 135 workers, all devoted to making the best planer in the world. Our team of after-sales technicians are available 24/7 to support customers worldwide. Distance is no obstacle to our service team who easily and efficiently offers online, remote-controlled service to our customers.
We invite you to visit our products section to view the complete line of planers and learn more about the company and all its divisions.