Feeding wood and productivity
The Gilbert Feed Table ensures that the planer receives a constant feed. It works at various speeds and runs up to 4000 ft/min (1200 m/min).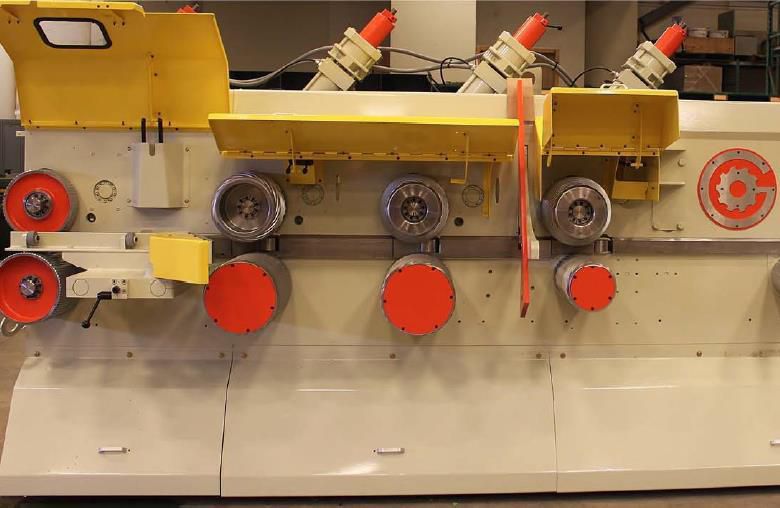 Features and advantages
Efficiency
Gilbert Feed Table ensures a constant feed to the planer.
It maintains the boards firmly against the guide bar.
An optional "thin" board detector can be installed on pineapples.
---
High Speed
Gilbert feed table runs up to 4000 ft/min (1200 m/min).
---
Electric
Fully electric, the feed table reduces energy consumption.
The electric system reduces maintenance and operation costs.
Eliminating hydraulics permits cleaner operations.
---
Automatic adjustments
Gilbert feed table can be controlled by the automatic positioning system.
---
User-friendly
The feed table requires little maintenance.
---
Our technologies

Gilbert GRIP system
Gilbert Grip System moves the rolls to position and hold contact on the board - Well sustaining sufficient force without damaging the lumber - It detects the thin boards - User friendly HMI for recipe selection and calibration - Increase piece count without running faster - Reduce gap, gain production

«Pull-Through» technology
The Gilbert planer runs with a gap between each piece, each piece is independently pulled into the planer. Prevents overlapping and breakage in the machine, allowing the operator to run damaged end boards with less trim loss. This technology reduces downtime and offers the highest running uptime on the market, over 95%.

4.0 Intelligent Planer
Gilbert offers to control many automatic functions so that the planer auto-adjust itself and keeps it very simple for any operator to run and produce high quality grades. For more information about our 4.0 Intelligent Planer, please contact a sales representative.