Learn how Red Stag Timber, NZ benefits from Gilbert's Pull-Through Technology
What makes Gilbert unique
Learn how one of Gilbert's valuable customer, Andrew James at Red Stag Timber in Rotorua New Zealand, explained the benefits of Gilbert's Pull-Through Technology.
Heidi, Sales Manager at Gilbert asked Andrew: What do you think about Gilbert's Pull-Through Technology?
Andrew: Gilbert's 8 Roll Planer has been a big improvement on the previous Planer we had. The pull-through technology has meant we are able to run boards through the planer that would otherwise have to be trimmed or removed from the production line, improving recovery and throughput. We still get breakages but they have definitely reduced
Heidi: What lead you to go towards Gilbert for a second planer project?
Andrew: The main reasons we chose Gilbert for our second Planer project would be the overall positive experience we had with our first Gilbert Planer and what the S-Series planer provided in terms of Safety, performance/reliability and capability to do the products we want.
The control over so many axes and functions like Jointing, skip adjust, pressures/guides, with the use of servo motors, which allows fine adjustments to be made remotely is a game changer in terms of Safety as it allows true hands free operation of the Planer, at a safe distance for our Planermen / Operators. Although we still have to enter the soundbox occasionally to clear debris.
The performance of our current 8-Roll Planer has overall been excellent, we had a lot a teething problems when we first installed our bespoke Planer back in 2017 as we got use to a totally new type of Planer and new way of doing things on a Planer. But with the help of the Gilbert team we overcame all obstacles and now we have a machine which produces top quality products at very high speed, consistently and reliably
The ability to add splitting and profile modules to our new S-Series planer will allow us to run a huge variety of products
Heidi: How would you rate Gilbert's after-sales service even if we are on the other side of the globe?
Andrew: I would rate Gilbert's service very highly, we asked for things that had never been done on a Gilbert Planer before. They had to develop not only the Hardware but the software to go with it
They were able to design and make solutions to any issues we had, when an off the shelf part wasn't suitable for our application and then ship it to us quickly from Canada. The CNC machining meant the parts always fit perfectly. We have set up a direct phone line to Gilbert by the Planer, they were always contactable and able to provide online support when needed.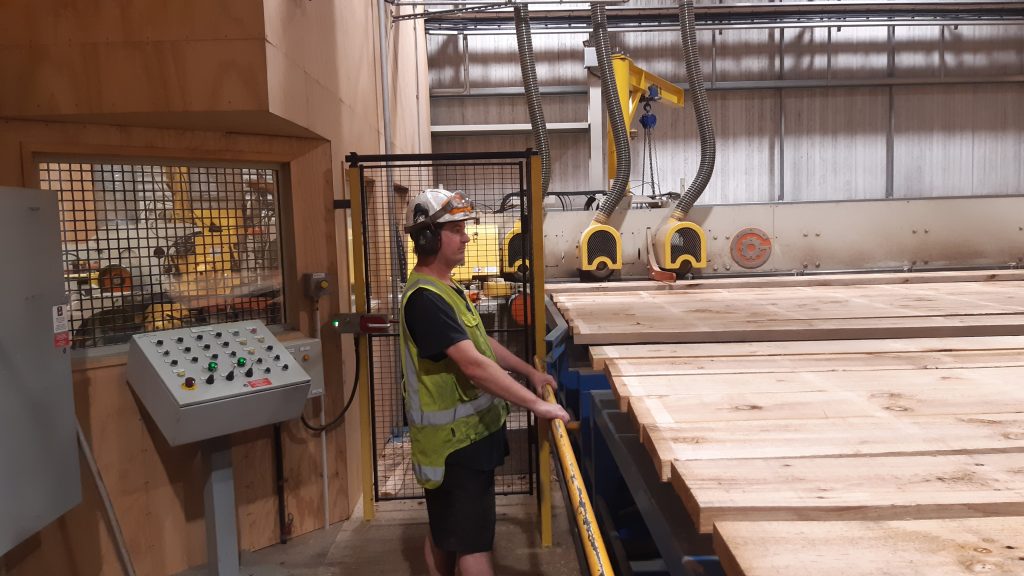 With the Pull-Through Technology, the boards are not being pushed, and there is no forceful impact between boards. This allows Gilbert to guarantee a very high efficiency, 95% running uptime through the planer, on all models of planers, from 30 mpm (100fpm) to 1200 mpm (4000 fpm). The Gilbert Planer never stops! And produces high quality lumber
Safety, a Priority!
In order to always offer its customers the best planing solutions, Gilbert has continually been developing a range of automatic upgrades designed to increase planer efficiency and make the planer room a much SAFER environment.
The Gilbert Automatic Cutterhead Positioning System controls the four cutterheads and an unlimited number of axes for optimal precision and higher grades. Easy to use, the automatic positioning system allows fast and easy recipe changes offering greater flexibility, less downtime and a safe environment.
Many automatic and safety functions have been developed over the past years, like top and bottom head jointers, side head jointers, top head pressure plate, width and height adjustment, after-cut shoes and triple pattern side heads. Very precise, these automatic upgrades increase the quality of the wood finish, ensure safety and efficiency. Adjustments are made remotely from the HMI screen outside the planer room, or from a tablet or phone anywhere in the mill. With special features like the triple pattern side heads, the operator can remotely switch from one pattern to the other, without stopping for jointing, or changing side heads on the machine. Keeps nicer finish, and less work required!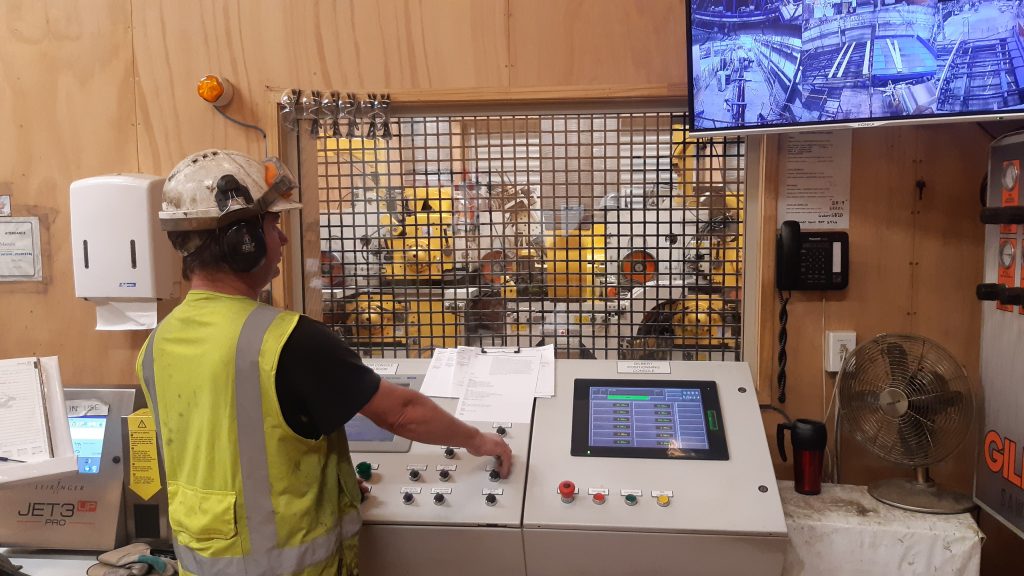 Gilbert is comprised of a team of 125 workers, all devoted to making the best planer in the world, and a grand team of after-sale technicians, available 24/7 to support customers worldwide. Distance is no obstacle to our service team who easily and efficiently offers online remote controlled service to customers worldwide.
We invite you to visit our Products page to view the complete line of planers and visit our About Us page to learn more about the company and all its divisions.