Enjoy a worry-free winter
Gilbert unique offer combines a two-track conversion kit, a front blade and a rear drag to enable farm tractors to be transformed into heavy-duty trail groomers. Equipped with all-rubber tracks, the RTS Series is built for greater versatility in a wide variety of conditions and for various needs. It can operate on dry pavement and dirt roads, as well as in mud, water or deep, powdered snow. The RTS Series is the ideal machine for snow grooming applications and winter off-road preparations.
The Gilbert RTS trail groomer is the perfect tool to maintain exceptional trails for your users. It simply glides over the trails with outstanding stability and comfort, and saves you money on maintenance and fuel. The perfect tool to make the most of your winter fun.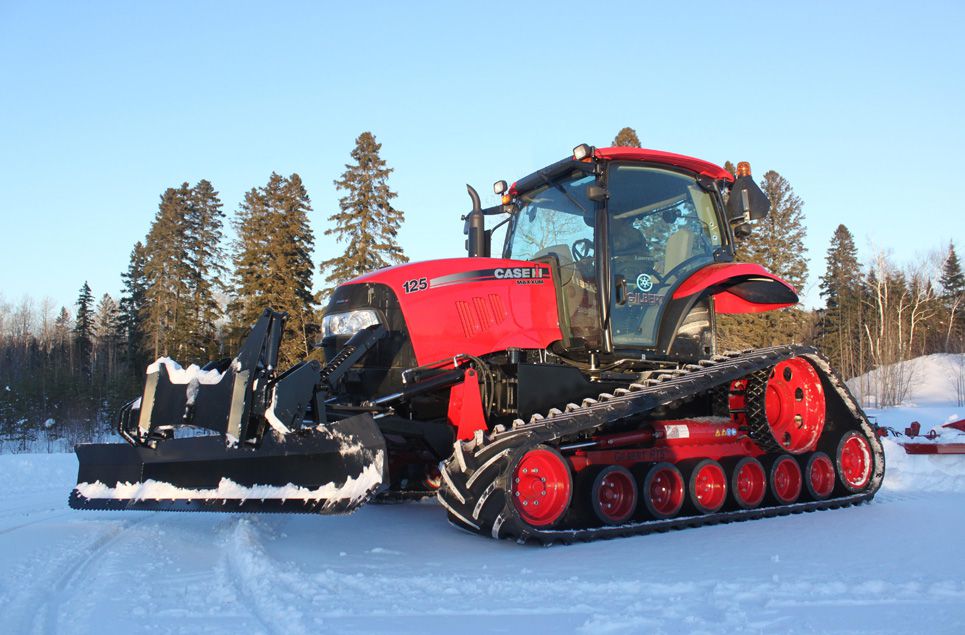 Features and advantages
Traction
Chassis design allows optimal stability and maximum continuous grip making Gilbert snow groomer unbeatable on winding trails and steep slopes. RTS Series track's V-type pattern helps preventing side slippage and increases traction.

---
Full Flotation
The two 30-inch wide tracks of the RTS Series provide constant ground contact for exceptional flotation and minimum ground pressure. It stands apart from the competition in heavy snow conditions, as well as light and wet snow.
---
Comfort
Internal drive sprockets and rubber tracks, combined with high performance suspension systems on boogie wheels, provide a smooth ride and maximum operator comfort for hours on end.
---
Reliability
Due to the modular frame design, the tractor rests on the chassis. The simple and robust frame allows easy and fast maintenance for unmatched reliability.
---
Efficiency
Gilbert design optimizes the transfer of energy from the tractor to the tracks ; there is no wasted energy ! Therefore, the snow groomer requires a two-wheel drive tractor which is more affordable and more fuel efficient than a four-wheel drive tractor.

---
Safety

Gilbert's front blades equipped with an exclusive release system to protect the structure, tractor, and operator against impacts from objects on the ground for safe operation in any conditions.
---
Technical specs
| Model | Classic | Premium |
| --- | --- | --- |
| Undercarriage | 9 ft wide standard chassis | 9 or 10 ft wide articulated chassis |
| Tracks | Two 24 in. rubber tracks (goodyear) | Two 30 in. rubber tracks (Goodyear) |
| Comfort | Cab suspension system | Individual suspension system on boogies wheels |
| Front Blade | Six way front blade with tripping system | Six way front blade with tripping system |
| Fuel Tank | 330 litres (90 gallons) | 330 litres (90 gallons) |
| Rear Drag | 9 ft wide with six multiple blades with individual tripping system | 9 or 10 ft wide with six multiple blades with individual tripping system |
| Compatible Tractors | 85 HP and more | 100 HP and more |
| Brush protector guard for cabin | Optional | Optional |
| Ice stud kit | Optional | Optional |