Gilbert unique offer combines a two-track conversion kit, a front blade and a rear drag to enable farm tractors to be transformed into heavy-duty trail groomers. Through the years, the MCS Series has built itself a strong reputation in the snow grooming industry. Introduced in 1993, Gilbert two-track system has provided the snowmobile clubs with an innovative grooming solution to meet the challenges in terms of low operating costs, flotation, security and maintenance. Equipped with steel cleat tracks, the MCS Series, also known as The Trail Master, is the perfect snow groomer for deep and powdered snow conditions.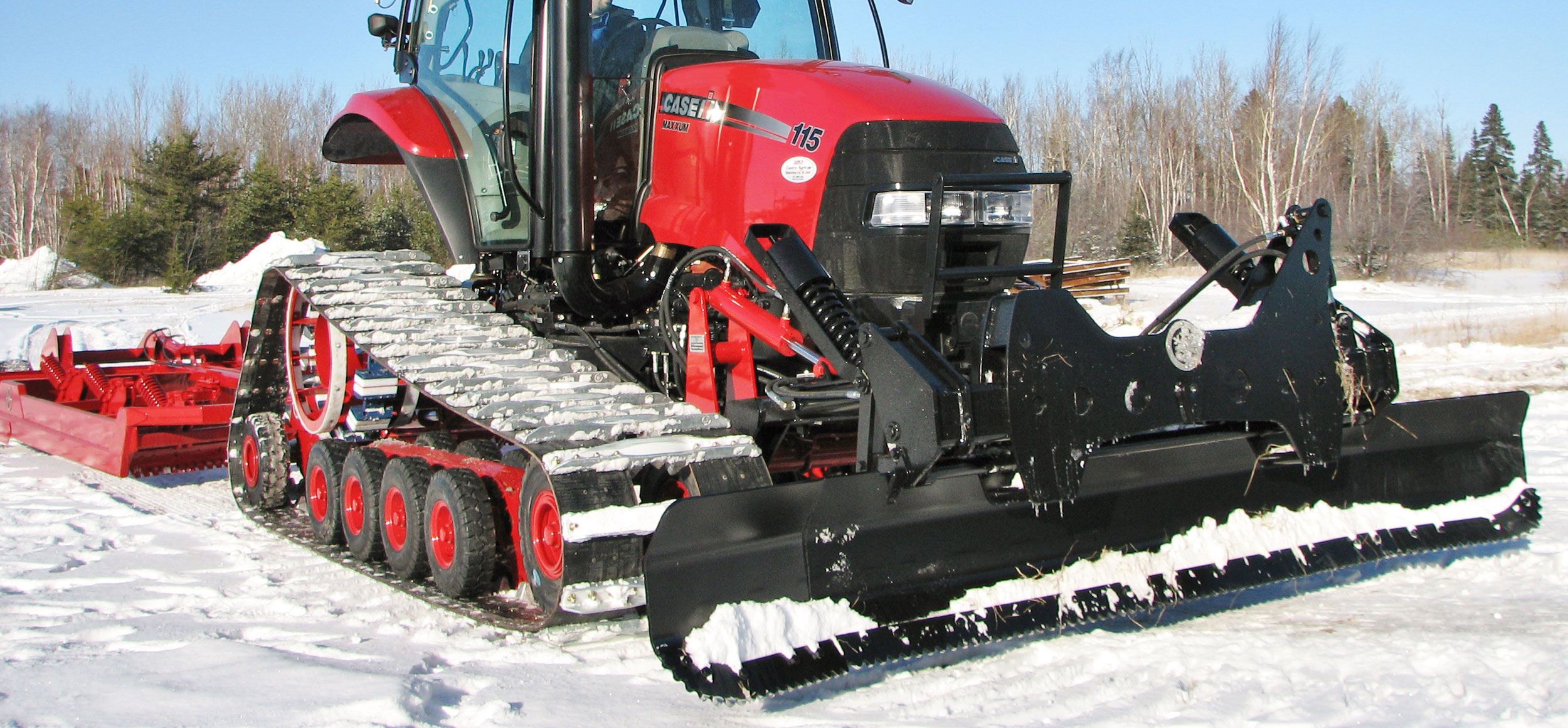 Features and advantages
Traction
The Gilbert MCS Series trail groomer is ideal for winding trails in heavy snowfall conditions. Its superior maneuverability and low ground pressure literally allow it to glide over the surface for effective operation in any conditions.
---
Flotation
MCS Series' steel cleat tracks, made of specially shaped high resistance steel alloy, operate with an exclusive and patented slider system that allows exceptional flotation and constant contact for maximum grip.
---
Comfort
Internal drive sprockets and rubber tracks, combined with high performance suspension systems on boogie wheels, provide a smooth ride and maximum operator comfort for hours on end.

---
Reliability
The trail groomer's simple yet durable modular structure provides unparalleled reliability on snowmobile trails, and lower maintenance costs.

---
Economy
Gilbert design optimizes the transfer of energy from the tractor to the tracks ; there is no wasted energy ! Therefore, the snow groomer requires a two-wheel drive tractor which is more affordable and more fuel efficient than a four-wheel drive tractor.
---
Safety

Gilbert flont blade is equipped with an exclusive release system to protect the structure, tractor, and operator against impacts from objects on the ground for safe operation in any conditions.

---
Technical specs
| Model | MCS |
| --- | --- |
| Modular frame | 9 feet wide one-piece |
| Rubber Track | Two rubbe tracks with steel cleat tracks 28 in. |
| Comfort | Cab suspension system (on selected tractor models) High performance suspension system |
| Front blade | Six way front blade with exclusive progressive release system |
| Fuel Tank | 330 litres (90 gallons) |
| Rear Drag Float | Six individual blades and front blade tripping system |
| Compatible tractors | 110 HP and more |
| Brush protector guard for cabin | Optional |
| Pivoting anti-friction wheels | Optional |
| Intermediate crawler tracks | Optional |
| Ensemble de traverses intermédiaires | Optional |
| Crawler track support kit | Optional |