Changes in management at Gilbert Products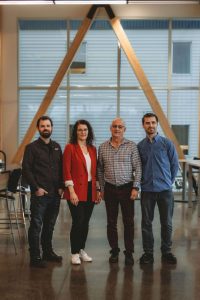 Sylvain Gilbert announced today the nomination of Frank Gilbert as General Manager of the family business. He will remain President for a few years.
In order to prepare for the future, a few changes will be made to the company's governance, including the establishment of a board of directors.
To this end, he also announced the appointment of Audrey Gilbert as Strategic Advisor and Corporate Secretary.
In order to ensure a smooth transition in their new functions, Sébastien Gilbert will serve as interim Production Director and will remain in charge of continuous improvement projects.
"I am very happy to be able to count on my children and Sébastien, my nephew, for the continuation of the company, which I believe is very important for our region," said Mr. Gilbert during the announcement to employees. He also thanked each one of them for their involvement over the past 36 years.
Frank stated, "I am thankful for the trust the team has placed in me. Proud that together we continue to make the region shine internationally and have a positive impact in our community. "
*Photo credit: Alexandre Guy