Gilbert Control and Assistance System: efficient and intuitive
The Gilbert Control and Assistance System supplied with the unit connects the pile driver to the hydraulic excavator. A high-quality ergonomic joystick attaches to the excavator's factory joystick and allows the operator to effectively control all functions of the vibro. The system is removable and easy to install on all excavator models.
The system comes with an Operator Assistance System that indicates the verticality of the profile using an angle sensor that transmits data in real time to an intuitive screen, providing continuous assistance to the operator.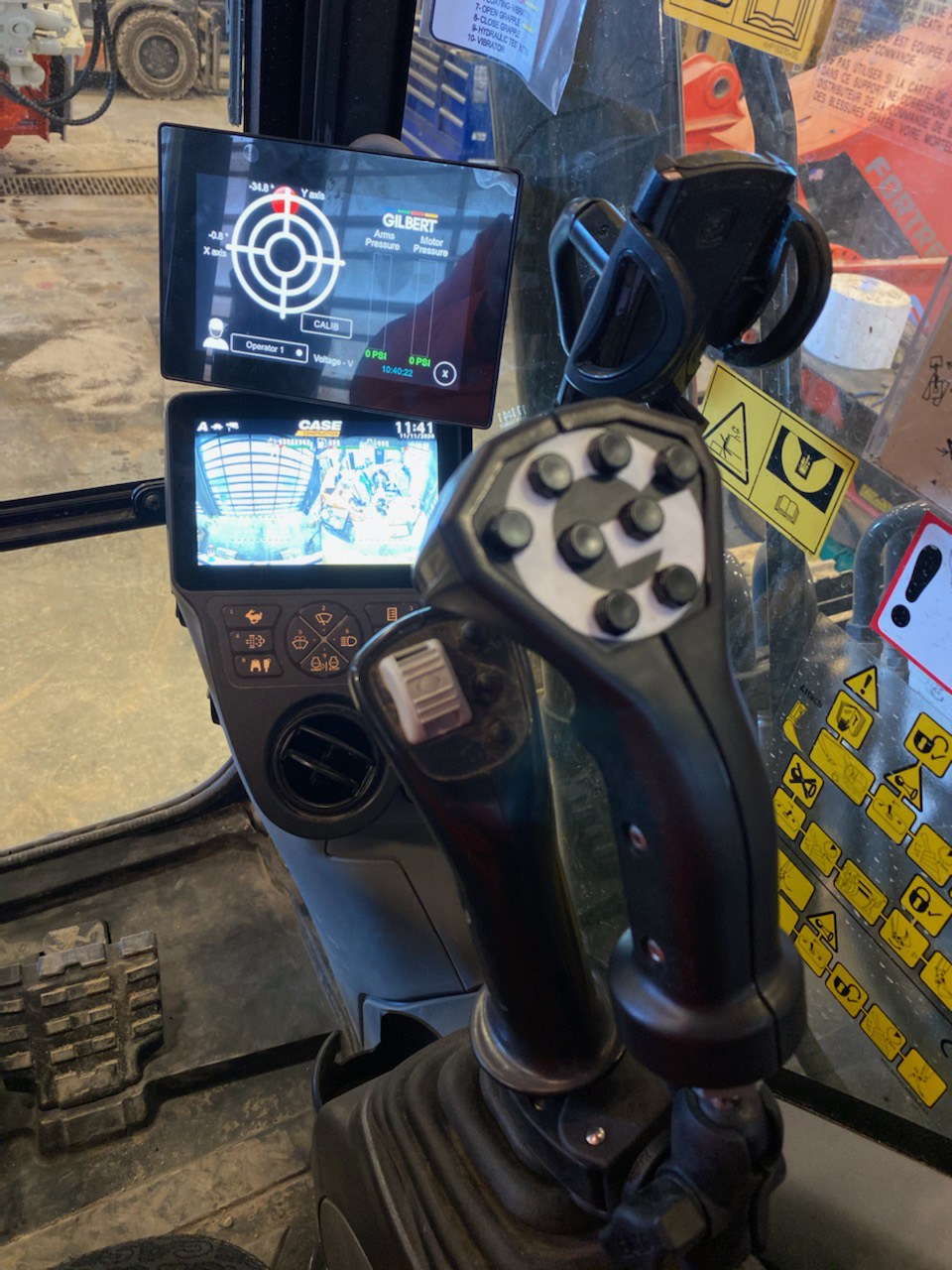 Features and advantages
Connectivity
Customizable operator joystick button assignment
Remote assistance for troubleshooting and service
---
Versatility
Removable system for easy transfer between excavators. Installation can be permanent or temporary, according to need.

The Gilbert control and assistance system simultaneously controls the machine's boom and tracks.
---
Simplicity
The system is designed for easy installation with no excavator modifications needed.
---
Efficiency
The average installation time for the excavator control and assistance system is two (2) to four (4) hours.
---
Technical specs
The kit includes:
one add-on joystick
A 7-inch screen monitor display controller with user-friendly interface.
Steering angle sensor
Harness and wiring kit
Semi-Automatic Steering System
Easy to Install and User-friendly
The Semi-Automatic Steering System allows the operator to put the excavator bucket cylinder on a floating mode during the pile driving process using the standard joystick. Once the first section of the pile is driven, the floating mode will significantly helps maintaining the initial angle of the pile without having to continuously adjust the movements of the boom throughout the action resulting in a steady pace.
Key Features
Precision
The system ensures the desired angle of the piles during ramming, as well as rapid, smooth, and consistent driving, without zigzag effect.
Durability
The system reduces friction between the sheet piles interlocks, thus ensuring their long-term durability. Moreover, it extends the life cycle of the equipment by significantly reducing lateral pressures on the piles and Gilbert Grizzly Multigrip vibratory pile driver components.
Versatility
The operator can select between floating or standard driving mode.
Low cost
In addition to helping you get the job done faster and limiting the risk of failure, this is an easy to install, low-cost alternative.