Increase your productivity
Imagine all trees stacked perfectly with one head, in one operation, all at once. Imagine a felling head that does it all. Increase your productivity with a felling head offering an above standard accumulation and an impeccable grouping of trees. Intended for a full range of logging operations, the 3000L Series is available in 21.5, 23 and 27.5 in. in cutting size with the most recognized high rotation wrists in the industry.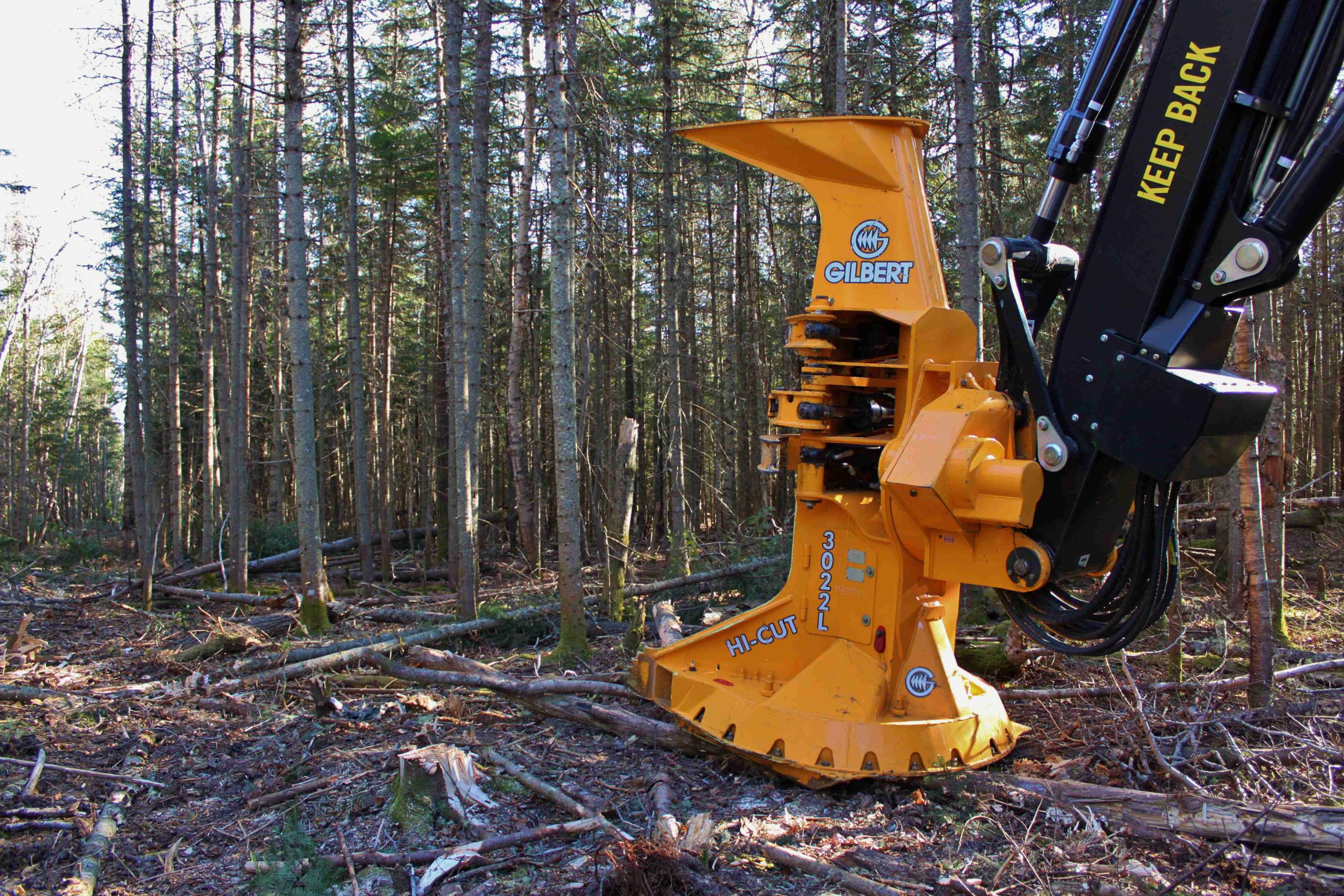 Features and advantages
Heavy duty
The heavy duty design ensures maximum performance in hard wood as well as in multi-stem wood.
---
Reliability
Gilbert unique and exclusive saw stops protect the saw drive system and the saw disc against impact and gyroscopic deflection. Hydraulic components and STRENX steel offer superior strength under all operating conditions.
---
Simplicity
Gilbert unique bolted saw drive system and the easy access to hydraulic components allows quick maintenance and increases uptime.
---
Efficiency
The conical base is designed to facilitate clearance for fast saw recovery. Moreover, Gilbert felling head ensures that the bunches are optimized for the skidder..
---
Versatility
The wide front throat opening accommodates butt flare and the innovative geometry allows an accumulation of more trees in tight, straight bunches. Moreover, the powerful 350 degrees wrist is strong enough to handle any size of timber.
---
Technical specs
Changez d'unité de mesure
| Modèles | 3022L | 3024L | 3028L |
| --- | --- | --- | --- |
| Cutting capacity (mm) | 546 | 597 | 706 |
| Saw Blade (mm) | 1346 | 1422 | 1676 |
| Accumulation area (m2) | 0.43 | 0.47 | 0.59 |
| Max. front opening (mm) | 1461 | 1499 | 1578 |
| Weight with high rotation wrist 40° (Kg) | 2636 | 3182 | 3545 |
| Weight with high rotation wrist 350° (Kg) | 2955 | 3431 | 3773 |
| Modèles | 3022L | 3024L | 3028L |
| --- | --- | --- | --- |
| Cutting capacity (Po) | 21.5 | 23.5 | 27.5 |
| Saw Blade (Po) | 53 | 56 | 66 |
| Accumulation area (P2) | 4.53 | 5.0 | 6.3 |
| Max. front opening (Po) | 57.5 | 59 | 59 3/4 |
| Weight with high rotation wrist 40° (lbs) | 5800 | 7000 | 7800 |
| Weight with high rotation wrist 350° (lbs) | 6500 | 7550 | 8300 |